Welcome To PC Solutions
PC Solutions has been established for over 30 years, during this time we have been building, supplying, repairing and maintaining all types of computer systems for home and business users covering the whole of the Isle Of Man. We can help with everything from simple PC and laptop repairs like replacing parts or installing software, to a complete computer system installation including Servers, PC's, Networks and Internet Connections. We can supply, repair and maintain it at a cost that won't break the bank.
Please use the search box below to search our website to find what your looking for or choose Google to search the entire web.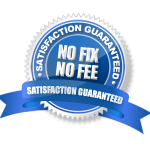 All our repairs work on a No Fix No Fee basis so that's no booking in or inspection charge and if we cant repair it or you decide not to have the work done it wont cost you a penny.
Give us a call on 01624 627171 you never know we may be able to help you resolve your computer problem there and then. All of our staff are computer engineers so you can speak to knowledgeable people straight away. Of course not all problems can be resolved over the phone but we can help and guide you to get the problem resolved. We offer impartial advice and we don't speak technobabble.
Our services are for home and business users who require professional IT support by experienced engineers at an affordable price. We pride ourselves on our extensive knowledge and simple solutions to complex problems.